Learn from some of the best
Unfortunately, crisis situations are very unpredictable. So it's important for organisations to have a crisis communications strategy in place to help deal with issues in the best – and swiftest – way possible.  
We've analysed some examples – both good and bad – of how other companies have dealt with a crisis and what you can learn from each.  
DOMINO'S VIRAL UNSANITARY STAFF VIDEO
Back in 2009, Domino's Pizza came face to face with a crisis that was created by their own employees.
A series of videos were posted on YouTube showing two employees clowning around in the kitchen of one of their branches. One employee filmed her colleague perform several unsanitary stunts, such as putting a piece of grated cheese up his nostril before placing it back into someone's food order and sneezing on another food order. The food was then sent out to be delivered and the video was posted online.
Due to the power of the internet and social media, this video went viral, and Domino's corporate office was alerted immediately. Their Vice President dealt with the issue and responded with an apology, as well as taking the time to thank the public for helping to bring the incident to light.
At the time, they said: "Thank you for bringing these to our attention. I don't have the words to say how repulsed I am by this, other than to say that these two individuals do not represent the 125,000 people in 60 countries who work hard every day to make good food and provide great customer service."
As you can see, Tim apologised and reassured Domino's Pizza's customers that those two employees do not represent them – therefore, completely isolating them from the brand. The next step in a situation like this is to prove to customers that this will never happen again, to prevent their reputation from being damaged for good.
Don't be afraid to be real and direct
To do this, Domino's Pizza US president, Patrick Doyle took to YouTube to post a two-minute video to explain the next steps and to reassure customers that this would not be a recurring matter.
 Doyle said the store in Conover, North Carolina, where the videos were made, had been shut down and sanitized. And he stated that Domino's would re-examine their hiring practices to ensure high-quality staffing.  
The franchise owner of the Domino's Pizza store at which the videos were made, filed a criminal complaint against the two employees, who were also sacked immediately after the videos emerged.
Domino's Pizza worked hard to regain trust and to protect their brand throughout this crisis and used transparency, consistency, authenticity and visibility to ensure their reputation was not damaged.
WHEN KFC RAN OUT OF CHICKEN
Almost 700 KFC restaurants across the UK had to shut down after issues with a new delivery contract resulted in a chicken shortage leaving branches with no chicken – the irony!
People were quick to take to social media to express their opinions. As you can imagine, the jokes about Kentucky Fried Chicken running out of chicken were plentiful. Although this was a complete disaster and a major crisis for KFC, their response was pretty clever.
Be transparent, poke fun at yourself!
The brand openly admitted to their mistakes and took full responsibility for their actions and how it affected many customers and staff members. Despite this clever and humorous response, there were still questions that needed answering.
To ensure that customers and the public didn't feel ignored, KFC took to their Twitter account to put some rumours to rest; another example of corporate transparency during a crisis.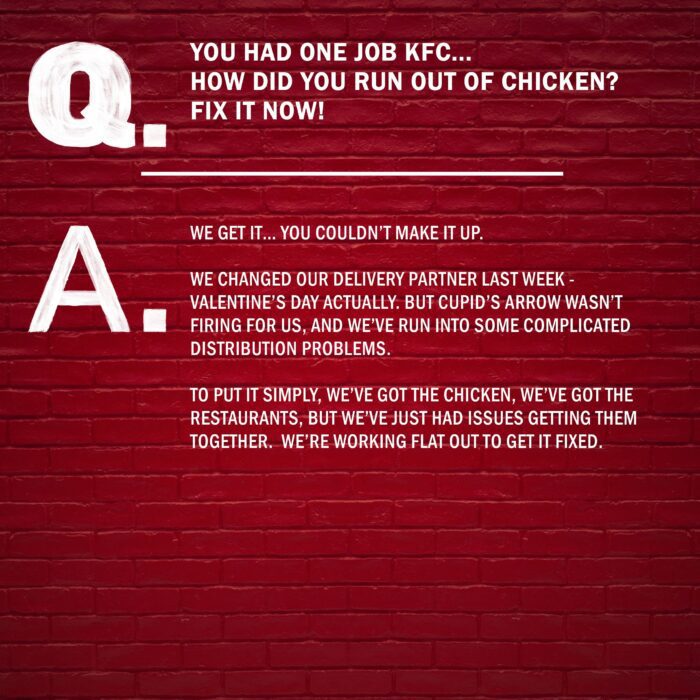 The importance of being transparent and quick to release the latest information is paramount to navigating a communications crisis, as these will always be the first crucial steps in regaining trust and protecting the organisation's brand.
WHEN SLACK SERVERS WENT DOWN
In February 2022, Slack, an online messaging application, went down causing users to be unable to access the platform. Usually used in the workplace to allow constant communication and collaborative working, the app can form a key part of a team's day-to-day activity.
Slack traced the problem back to a configuration change, which caused a spike in activity on the company's database infrastructure.
Be as honest, open and accessible as possible
Slack kept users in the loop by posting frequent updates during the five hours the app was down, telling them how they would find a solution and even being open about the mistakes they made along the way.
These clear messages in easy-to-understand language were posted a couple of times an hour and showcased the full picture of the company's efforts to get the app back up and running.
They also used Twitter to communicate with users in a tone that was authentic yet apologetic. 
The importance of clear and honest communication, and complete openness through the process, allowed Slack to reassure users that it was giving full attention to the issue at hand and that they were committed to solving it quickly. 
BP'S OIL RIG EXPLOSION
In 2010, the Gulf Coast was hit by a huge oil rig explosion – so huge that it was, and still is, the biggest oil spill in US history. It lasted for 87 days with an estimated 130 million gallons of oil leaking into the Gulf of Mexico.
In a huge crisis such as this, there isn't much an organisation can do or say to please the public as it was a catastrophe that not only claimed 11 human lives but also devastated the ocean and the wildlife living in it.
BP were dishonest with the facts they initially released, stating that the oil rig was leaking up to 1,000 barrels of oil a day. That number was later found to be closer to 5,000.
BP also then attempted to subtly shift the blame and diminish their significant role in the crisis via a press release stating that the oil rig belonged to Transocean Ltd.
Proving that honesty is always the best policy. Even if the admission feels like a PR disaster in itself; lying will only cause further negativity for the brand in the long run.
Brief your spokesperson
BP's CEO Tony Hayward appeared in many interviews over the 87 days and is now renowned for making several comments which demonstrate a badly structured crisis communications strategy – in fact, it is unclear whether they even had one.
Tony was the spokesperson in this crisis; however, a series of interviews and press releases highlight how poorly prepared he was when addressing this disaster.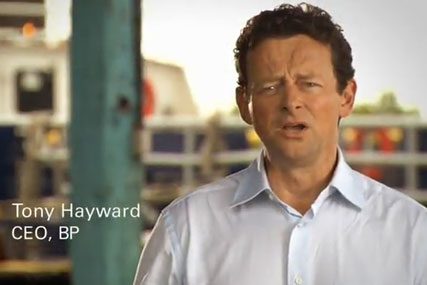 Preparation and strong key communications are major factors to consider when tackling a PR crisis. Failure to do so can completely damage an organisation's reputation in one sweep – as one inappropriate or misworded sentence can have a significant effect on a company's reputation.
A professional and well-prepared crisis communications team should have briefed Hayward to appear consistent and transparent. Eventually, it was Hayward's resignation that was offered to try and salvage the brand.
UNITED AIRLINE'S OVERBOOKED FLIGHT
On 9th April 2017, Dr David Dao was travelling on United Airlines flight 3411 but was forcibly removed against his will.
United Airlines had overbooked the flight with four spaces needed for their own crew. To find space, the airline crew randomly selected four passengers to be removed from the flight, with David Dao being one of them. He refused to leave his seat as he needed to get back to Kentucky to oversee the opening of a clinic he founded for US veterans.
Prepare to be culpable
Already a difficult communications task, United Airline's first response placed the blame on David Dao. In a leaked company email, the CEO, Oscar Munoz, accused the passenger of being "belligerent" and "disruptive", which received negative feedback on social both to the situation on the plane and the PR crisis that followed.
It is reported that United Airlines lost $1 million in value after this incident, following which their CEO released a public statement:
The tone of this statement is in complete contrast to the previous statement issued.
United Airlines even stated that they claim FULL responsibility for the incident and listed some changes that will be made. In retrospect, this should have been the first statement they released as it would have helped save their brand image and reputation.
MACLAREN'S PUSHCHAIRS INJURING CHILDREN
Over a 10-year period, there were 12 incident reports of children's fingertips being cut off in Maclaren's pushchair hinges. Finally, the brand decided to recall 1 million of these products and issue repair kits to customers who had purchased a faulty pushchair. However, the recall request only occurred in America, with the same pushchairs available for purchase in the UK.
Instead of a formal recall and repair kits being sent out to every Maclaren owner, UK Maclaren 'warned' buyers to not let children stick their fingers in the folding mechanism as the pushchair was being opened. This caused a media outrage.
Any serious injury being done to consumers of your product should cause panic, particularly when children are concerned. The discrepancy between one division of a company acting in comparison to another is poor communications and operations management.
Take action, and fast
The lesson to learn here is to act quickly. If you receive complaints about your product, investigate it quickly and make changes if necessary.
Maclaren waited ten years to respond to serious allegations concerning their products. Delays in response to such serious reviews can affect trust in your brand and affect stakeholder perceptions.
Organisations must always be prepared for a crisis and must act quickly, proving to customers that they want to rectify the wrongdoing and will do all they can to prevent such crises from happening again.
ALDI SUED BY M&S OVER KNOCK-OFF PRODUCT
ALDI is known for their creative dupes of popular branded products but were seen to go too far when they created their own version of Marks and Spencer's beloved Colin the Caterpillar cake.
When ALDI released Cuthbert the Caterpillar, M&S filed a lawsuit to force them to take the cake off the shelves. This caused huge debate over issues like copyright and ALDI were seen to be undercutting their direct competitors, potentially leading to negative press for the popular German-owned discount supermarket.
Garner public support for your cause
ALDI's crisis management team responded to the lawsuit in a very unconventional way. Rather than putting out a formal statement, they posted a series of funny social media posts, effectively trolling M&S! One post jokingly 'live tweeted' events from the courtroom, including a courtroom sketch showing Cuthbert the Caterpillar in court. All posts featured the hashtag #FreeCuthbert, encouraging followers to show their support.  
ALDI used light-hearted humour to overcome any negative associations with being sued by M&S and quickly rallied their social media followers to support the cause. This public support cleverly positioned M&S as being overly serious about a trivial issue, causing them to back down. In the end, M&S settled the matter out of court, and Cuthbert and Colin both remain on supermarket shelves.  
 
So when crisis hits how best can you deal with the situation, as the communication plan varies wildly from one situation to the next?
Don't be afraid to be real and direct
Brief your spokesperson
Take action, and fast
Prepare to be culpable
Be honest and right your wrongs
Use humour and rally your supporters 
If you think your brand could benefit from having a crisis management strategy in place and an expert PR team on side, get in touch at  influentialmarketingteam@thisisinfluential.com