Integrated communications agency Influential has kicked off a brand new brief for North West Cancer Research with a duo of campaigns, creating noise for the charity across the region. 
Having worked with the organisation for the last three years on a project basis, the Manchester-headquartered agency won a competitive pitch to handle the charity's PR activity, alongside a series of integrated campaigns throughout the year.
And the team has already begun making waves for the charity, leading two consecutive campaigns to help put them firmly on the map.
With the temperature rising and summer well and truly here, Influential launched North West Cancer Research's annual skin cancer awareness campaign this month but, this time, with a new, fresh hook.
'Think Again' focuses on encouraging people to protect their skin from sun damage all year round, whether at home or abroad, highlighting how easy it can be for all skin types to be affected by the sun's harmful rays.
Skin cancer rates in the North West are 10% higher than the national average so slapping on the sunscreen and covering up in the sun is vital to lower your risk of developing the disease.
Kicking off with a giant ad van displaying the campaign messages and free suncream giveaways in Manchester city centre, 'Think Again' has already caught the attention of the region's media, with widespread television, radio and online coverage.
The campaign will continue into the summer, with a string of further events lined up across the North West, to encourage local people to 'think again' when it comes to skin cancer.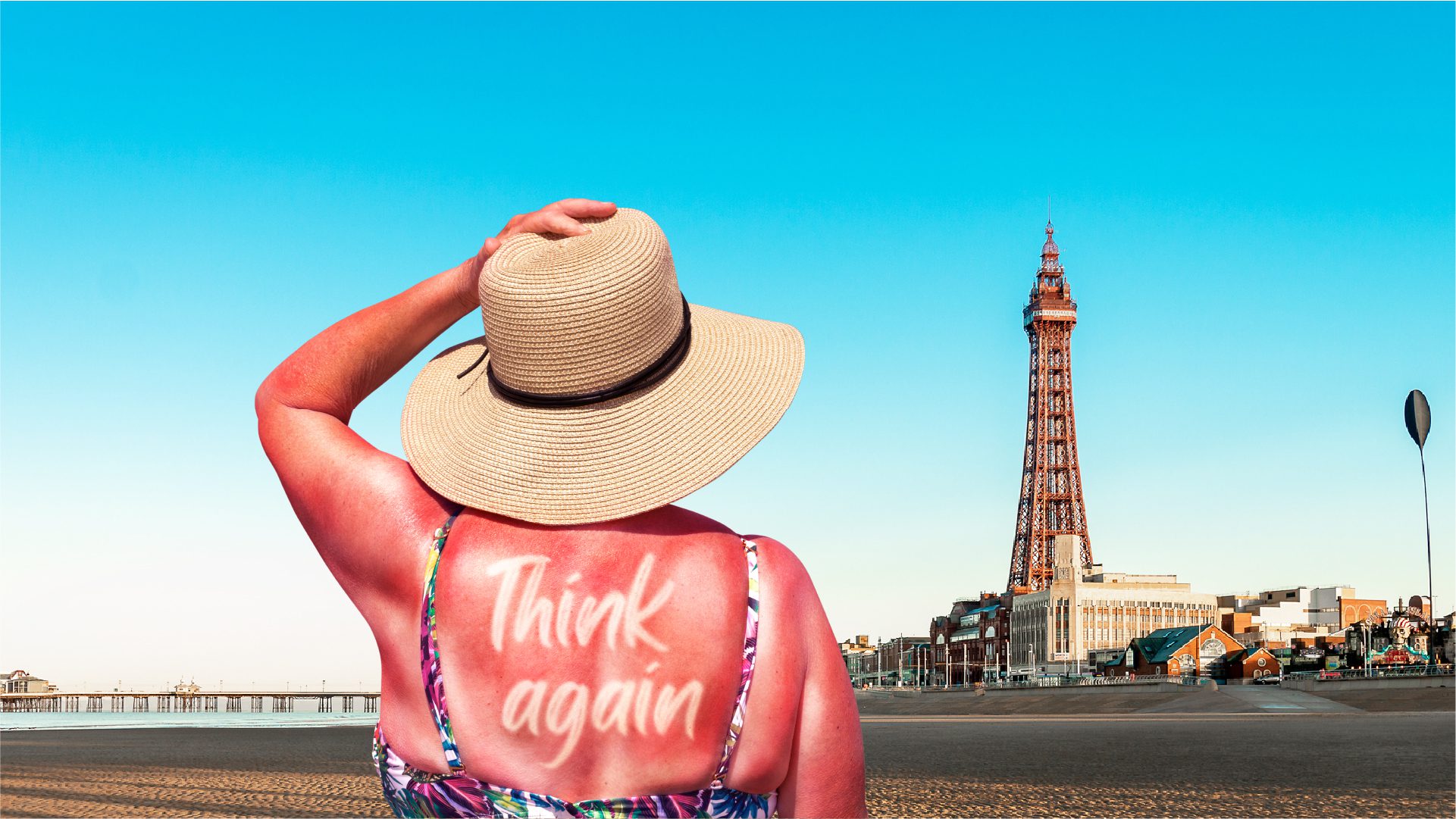 Karen Swan, Director at Influential, said: "Having worked with North West Cancer Research for a number of years, including developing their new brand, we have become embedded in the charity's team and are incredibly passionate about their cause.
"So, we were absolutely thrilled to secure an ongoing partnership with them, enabling us to get stuck in to a series of important campaigns and ensure those living in the North West know that this is a charity focused entirely on the region's cancer needs and inequalities.
"We're now looking forward to continuing with 'Think Again', while the wheels are already in motion for our next campaign, so watch this space!"
'Think Again' follows the success of 'Cancer Has No Place in Our Home', which was a campaign launched in Spring to shine a spotlight on why North West Cancer Research is so important for the region and how people can support its cause.
As part of the campaign, Influential created a series of 'neighbours' for Antony Gormley's iconic 'Another Place' statues on Crosby Beach.
Six replica statues were temporarily installed alongside Gormley's structures, each one highlighting a shocking cancer stat within the region.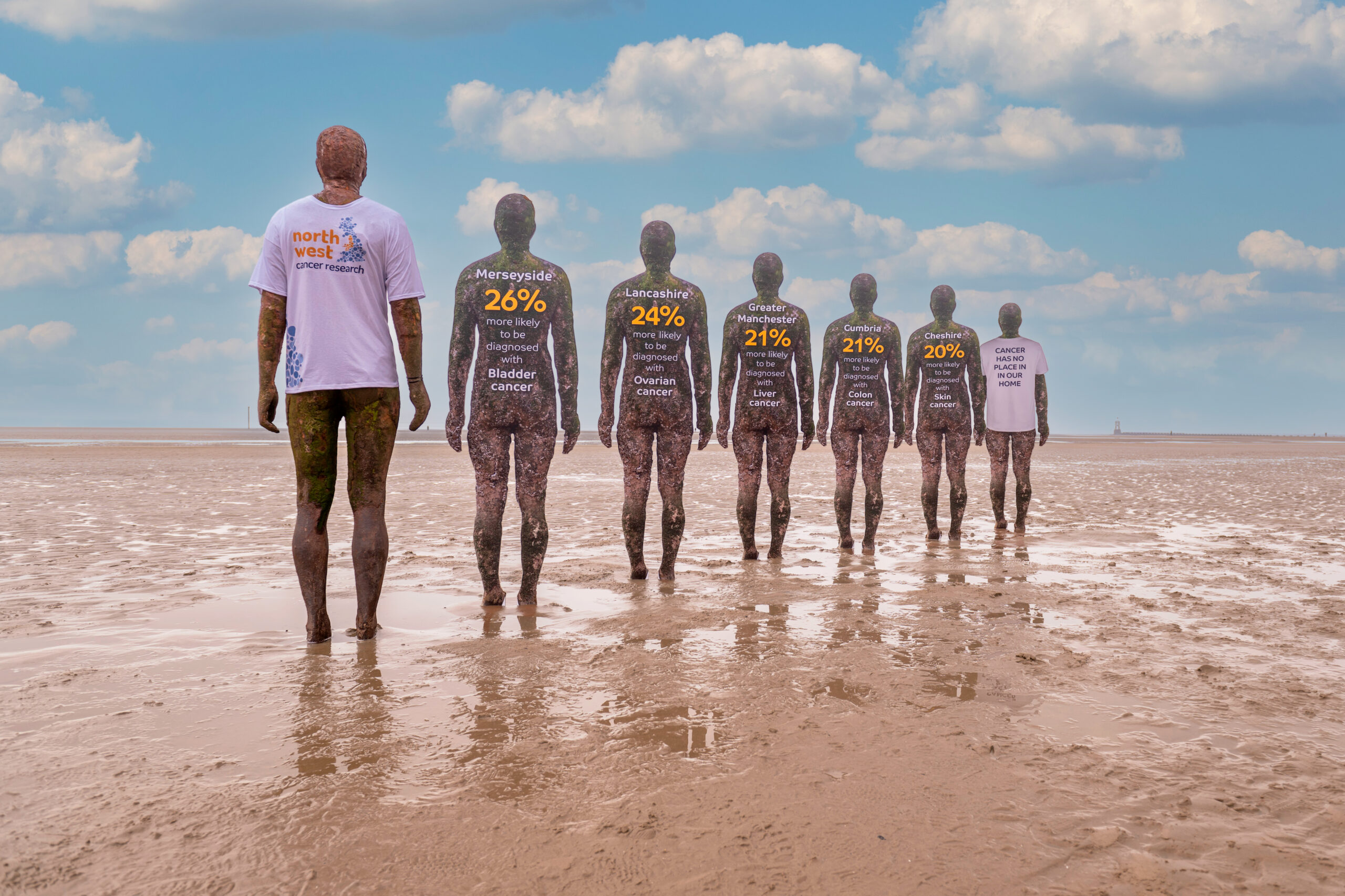 The powerful image struck a chord with the media and public alike, with post-campaign research showing an impressive 41% recall rate, paving the way for cancer-specific awareness initiatives for the rest of the year.
Cara Newton, Head of Marketing and Fundraising at North West Cancer Research, said: "Influential had already proven how passionate about, and dedicated to, the charity they were, so we were incredibly excited to kickstart a more ongoing relationship with them.
"Straightaway, we felt like one team and we've really felt the benefit of having support from a mixture of creatives, PR professionals, digital experts and researchers.
"The first two campaigns have been hugely successful and we're already starting to see a shift in the level of awareness of us as a charity that is dedicated to the region's cancer needs. We're now excited to see what comes next on our journey together."
For further information about North West Cancer Research, visit www.nwcr.org
To find out more about our services, check out the rest of our website or email us at marketingteam@thisisinfluential.com for a chat.