Make the most of social media
There is no getting around it, social media has massive pulling power when it comes to our purchase decision making. With 4.88 million  and 71% of consumers more likely to purchase based on social media referrals, it is no surprise that businesses continue to turn their hand to the likes of Instagram, Facebook and TikTok to try and draw in new customers and boost sales. 
However, 48% of brands are currently struggling to see a ROI on their social media marketing investments. We've rounded up the top five mistakes businesses are making when it comes to getting the most out this crucial marketing tool. 
NO SOCIAL IN YOUR STRATEGY 
A huge mistake companies make, particularly when starting out navigating social media, is to focus too heavily on social-only goals. Social media is an incredibly important piece of marketing kit, however, if it doesn't match your brand personality, it won't work.
One company known for using its social media as part of a wider strategy is Red Bull. Ranked number 69 in Forbes 'Most Valuable Brands List' in 2020, Red Bull has competition from brands like Monster and Rockstar. To get cut-through against its competitors, the energy drink giant carries its brand, and personality, across its social channels.
Red Bull has become almost as synonymous with sports, music and stunts, as it has with energy drinks. Over the years, Red Bull has posted videos of people excelling in different sports, with a focus on extreme sports such as snowboarding and BMX. These videos have proved popular on Instagram, garnering 12.8 million followers for the brand's account. The best bit? Masses of user-generated content from their followers as they post their own stunts and tricks. 
MAKING SOCIAL ALL ABOUT SALES
Don't get us wrong, sales on social works. Just look at the e-commerce channels being utilised on Facebook, TikTok and Instagram.
For any company to succeed with social media, they need to see it as not just a way to advertise their products and/or services, but to attract a wider audience through a more personal, interactive approach. Over 50% of customers have said they will unfollow accounts that post pushy or annoying adverts consistently on their social media channels, which suggests that engaging with customers through social channels is a better way to build an audience.
One company which has mastered the use of social media to interact with customers is global smoothie brand, Innocent. Through their Instagram, Twitter and Facebook feeds, the company use quirky humour to interact with their audiences, which has led to the company gaining over 1million followers across the three platforms, raising brand awareness and boosting sales. They recently jumped on the Barbie movie trend while cleverly poking fun at the potential copyright issues involved.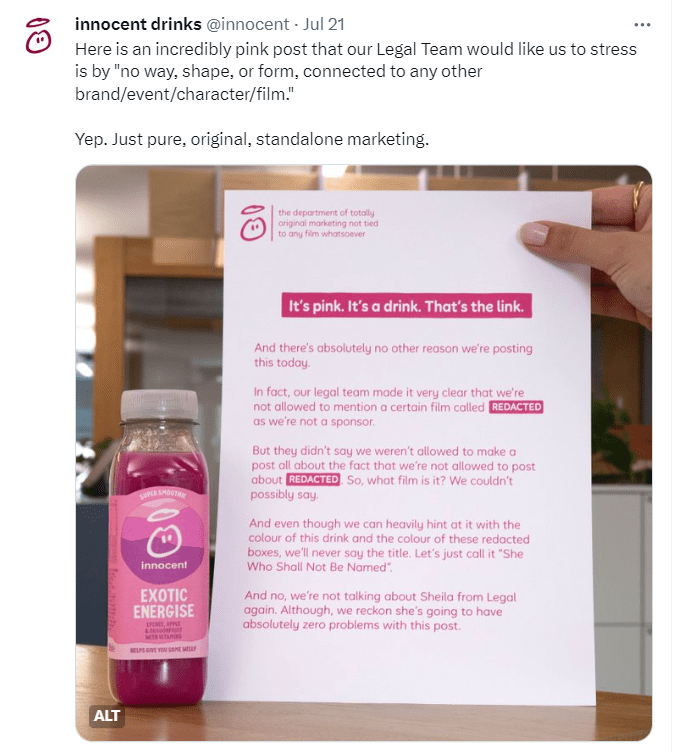 And remember, with a plethora of in-platform analytics and insights, you have every tool you need to understand how your content is working, or, not working.
Don't stick your head in the sand when it comes to insights. Check the numbers behind your posts and define success for each. Did you want people to click on a link? Check how many link clicks it got and then check page performance on Analytics. Did you want people to engage with the post? Check number of comments and engagement rate.
Success is not one given metric, so make sure you define what you want, build your strategy and you'll be on your way to reaching your social media goals.
TREATING SOCIAL CHANNELS AS ONE AND THE SAME
All channels are not created equal, and posting the same sort of content on each of them will not get you very far. What makes a great tweet does not necessarily make a great Facebook, Instagram or TikTok post. For example, hashtags can be used aplenty on Instagram, but should be contained to just a couple on Twitter due to the character limit, and are rarely searched for or used on Facebook. Also, audiences vary across social media platforms. You may be able to get away with using the latest slang in posts on Instagram, however the audience for LinkedIn is generally older, and therefore may not understand the colloquialisms as well.
ENGAGEMENT, ENGAGEMENT, ENGAGEMENT 
We said this one three times because it's three times important. At its core social media is, well, social. And brands and businesses don't get to cut slack here.
Give your followers a platform to share their ideas and start conversations and engage with them. This is a sure-fire way to maintain audience retention and improve brand loyalty.
But what about negative comments? Try and treat your social media accounts as a sort-of extension of your customer service department. Speaking to the Digital Marketing Institute, customer experience management company Market Force explains:
"The emergence of social media has given consumers a whole new way to interact with the brands they love — and a forum to complain when brands disappoint. But what many companies have learned is just how powerful connecting one-on-one with customers can be when those consumers take the time to post."
Not only does deleting comments tell the customer you are unprofessional, but it is likely to annoy the customer and escalate the situation.
One brand who has won an award for their outstanding use of social media customer service is Spotify, who set up a completely separate account for customer service issues, Spotify Cares. Through this account they not only take on board negative comments, but use positive brand engagement to keep customers on side:
When businesses engage with customer complaints online instead of deleting them, they can end up spending up to 40% more with that company, so it's something worth considering.
 NOT USING SOCIAL MEDIA EXPERTS  
It sounds simple, but a mistake a lot of companies make is not taking social media seriously and putting an inexperienced person on to manage it. Just because your new millennial or gen Z intern lives and breathes social media doesn't mean they are equipped to navigate it in a professional capacity. Social media management involves a whole host of high-level skills, including setting and managing KPIs, determining and maintaining strategy and thinking about broader goals.
By aligning your social media strategy alongside a wider digital marketing strategy, you can build upon existing KPI's too and have your social channels reflect this. So in order to see the true benefit and ROI of social, it's usually best to leave it to the experts!
If you think your brand could benefit from having a social media strategy in place and an expert PR team on side, get in touch at  influentialmarketingteam@thisisinfluential.com