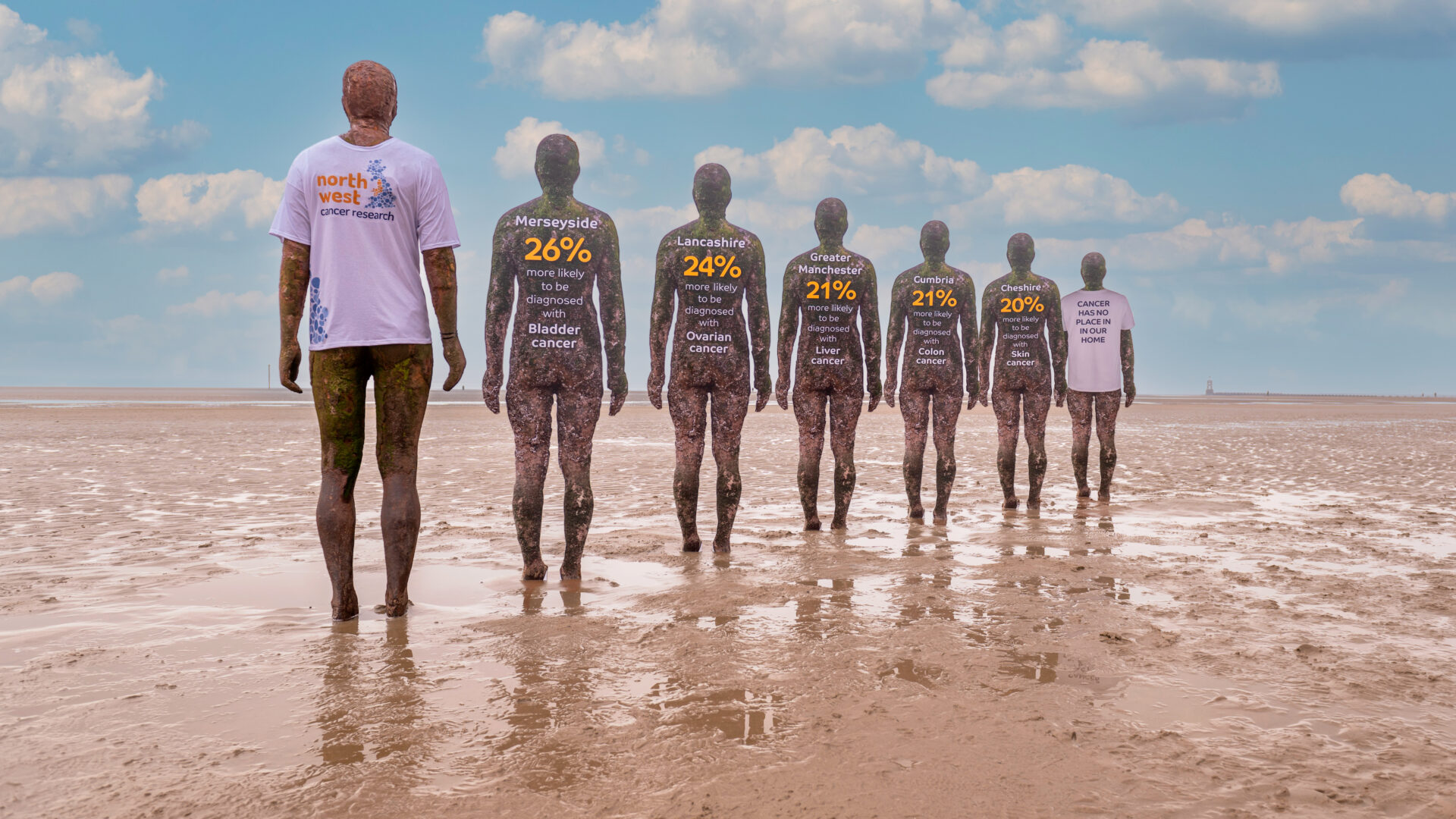 Brand building for North West Cancer Research
Awareness raising across the North West
Creative
Public relations
Digital marketing
Brief
Cancer rates in the North West are, on average, 25% higher than the rest of the country. Our brief was to rally local people to get behind North West Cancer Research and raise awareness of the charity's vital work. 
Challenge
To make people sit up and take notice of North West Cancer Research, we needed a campaign that would strike a chord with those living in our region. 
We knew that, for most cancers, rates are higher in the North West – but simply telling the public and media about this with a table of statistics would not be enough. 
An impactful 'moment' would help ensure we cut through the noise and drilled home our key messaging about the charity's research into tackling the region's specific cancer needs.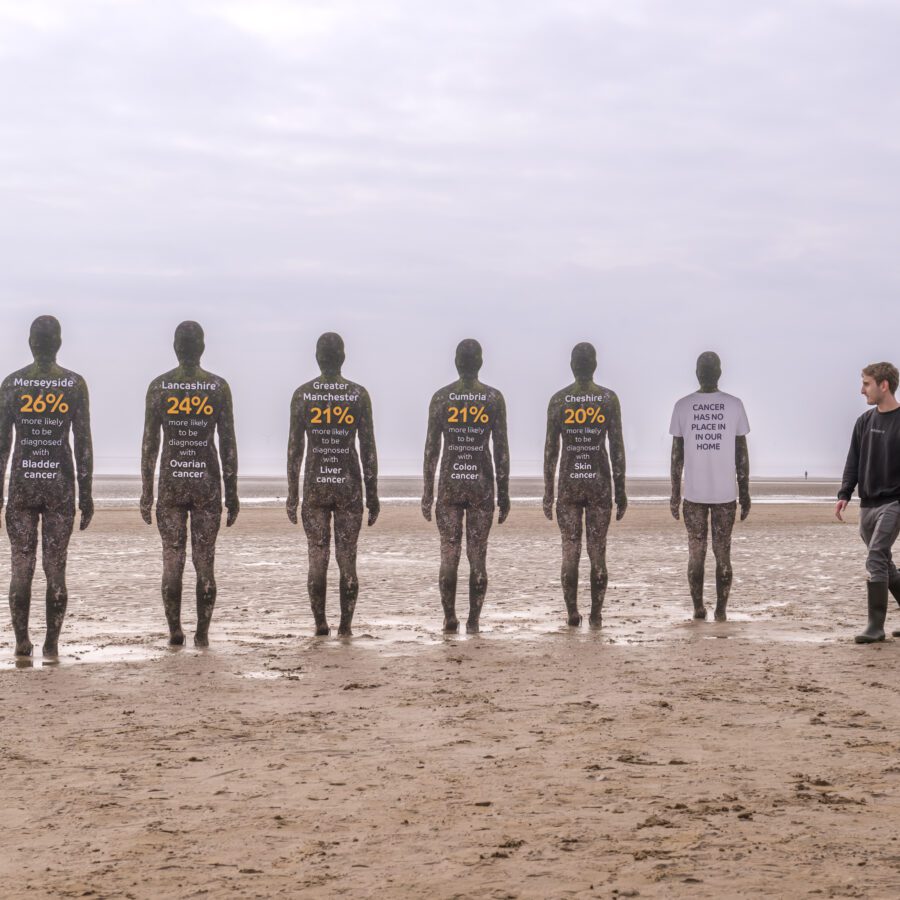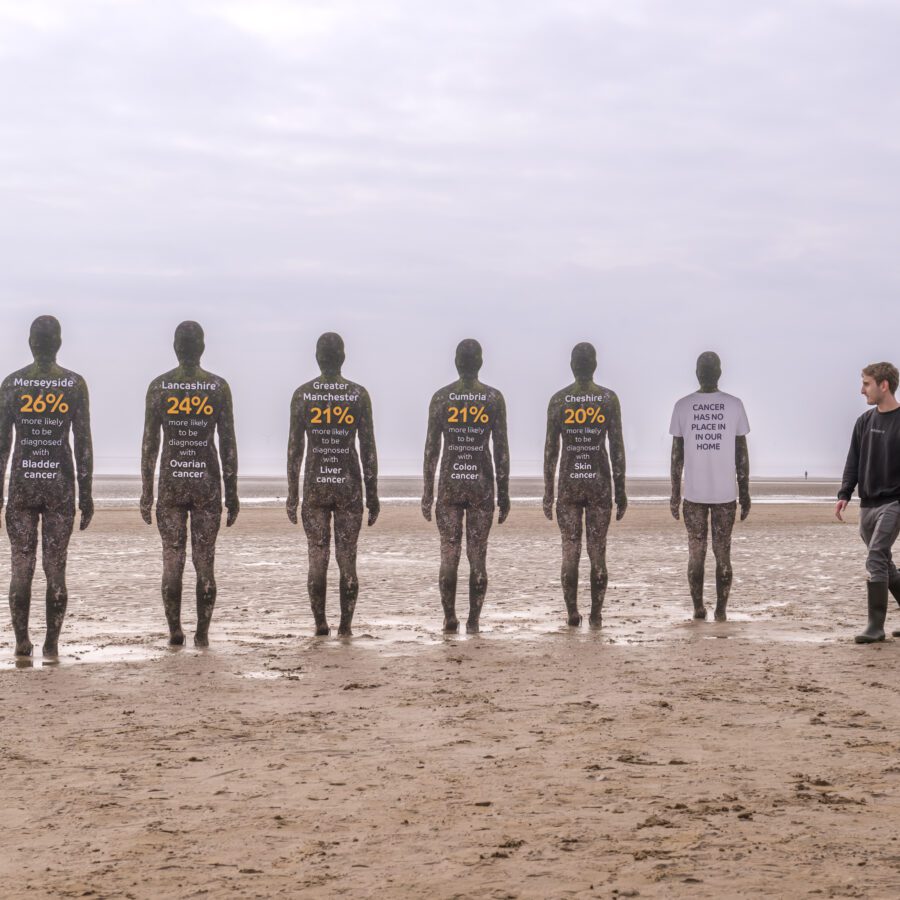 We selected Crosby beach as a focal point, leading on Antony Gormley's iconic 'Another Place' statues for the campaign centrepiece.
We created a set of six 'neighbours' for one of the famous figures, temporarily installing replicas with each one bearing a shocking cancer fact in the North West. For instance, one statue highlighted how those living in Merseyside are 26% more likely to be diagnosed with bladder cancer. 
Media were invited to interview the charity's CEO on the day, along with a case study who was happy to share their cancer journey to help raise awareness. 
Alongside the PR activity, we simultaneously launched our digital campaign, in which we cemented the charity's place among local communities. A suite of digital ads and short-form videos featured a selection of individuals with local accents at a number of recognisable landmarks, delivering the campaign's messages about why cancer has no place in our home.
The content was executed across Meta, YouTube, digital display and digital out-of-home. 
Results
We achieved media coverage across regional broadcast, print, online outlets, including both North West mainstream news programmes and multiple hits across radio.
26
pieces of media coverage